El Distrito Digital Virtual Bootcamp Blockchain & Fintech Accelerator Alicante ha complit amb èxit el seu objectiu d'unir a les top startups del sector i a les principals institucions financeres. L'esdeveniment online es va celebrar el 12 de juny i va convocar a més de 250 assistents que van seguir ls pitches de les startups i les presentacions de les entitats en directe des d'Espanya, Europa i altres parts del món.
El Virtual Bootcamp ha sigut una plataforma perfecta perquè estes empreses tecnològiques de 12 països presenten els seus projectes i solucions innovadores a les institucions financeres que més estan apostant per la innovació i la inversió en tecnologia. Aplicacions pràctiques de blockchain per a bancs i asseguradores, educació financera, contractes intel·ligents, benestar i accessibilitat, tokenización i traçabilitat, pagaments internacional i finançament comercial són algunes de les àrees en què treballen les 20 startups que van arribar a la fase final del Bootcamp. Procedixen de països com a Regne Unit, Mèxic, Suècia, Espanya, Polònia, Finlàndia, Hongria, Líban, Irlanda, Estoniana, Bulgària i Grècia. Els representants de les entitats financeres es van mostrar molt impressionats pel nivell d'innovació dels projectes presentats.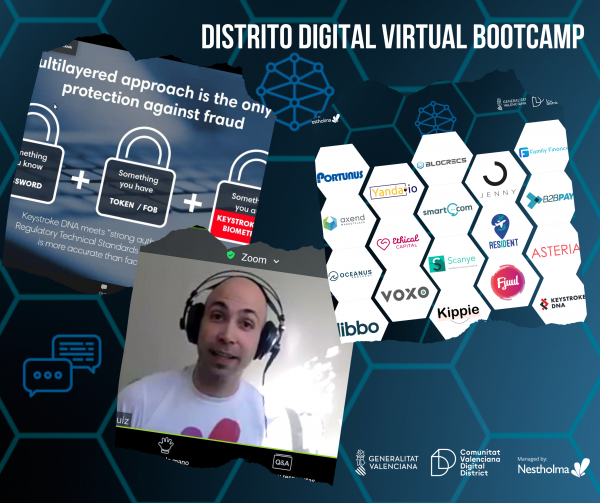 L'equip del Distrito Digital Virtual Bootcamp, gestionat per l'empresa Nestholma, va avaluar per a este challenge els projectes de més de 3000 startups de 62 països, i va contactar a més de 1.500 d'ellas. Para impulsar la col·laboració entre les startups i les institucions financeres, es van organitzar sessions de col·laboració durant uns quants dies en què van prendre part bancs i asseguradores. L'esdeveniment online celebrat el 12 de juny és la culminació de mesos de scouting, amb la trobada digital entre les empreses seleccionades i les entitats.
Thanks to @GVAddigital for having me and organising such an interactive and dyanmic digital event! The whole team at @YandaTrading enjoyed it! https://t.co/KejEGj5lM2

— Mario Stumpo (@mario_stumpo) June 15, 2020
Thanks to you guys! It has been awesome. #DDVirtualBootcamp @Nestholma Thanks from everyone at #Kippie https://t.co/fmmnYLNGnY

— Isaac Ramonet (@IsaacAlbets) June 12, 2020
"Startups i institucions financeres estan abordant les problemes crítics junts"
L'esdeveneiment Distrito Digital Virtual Bootcamp va començar amb l'obertura amb Daniel Collado-Ruiz, CEO de Nestholma, qui va destacar en la seua intervenció que a més de les tendències d'automatització i digitalització, la personalització de PIMES, l'augment de les criptomonedas i els contractes intel·ligents que entren en escena, existix hui en dia també una altra tendència important: la col·laboració. "Startups i institucions financeres estan abordant les problemes crítics junts. Ho hem vist, però no significa que siga fàcil. En realitat és prou difícil. I ací és on ajudem nosaltres. Per això Districte Digital organitza este Bootcamp, per a ajudar a fer que les innovacions i negocis surjan", en paraules de Daniel Collado Ruiz.
A continuació es van presentar les propostes de projectes de cada una de les startups: Yanda, Fjuul, Kippie, Libbo, Resident Tax, Scanye, Family Finances, Asteria, Portunus, VOXO, Smartcom, Keystroke DNA, GetJenny, Ethical Capital, BlocRecs, Oceanus, B2B Pay y Axend.
Tot seguit es va celebrar una taula redona, on els representants d'institucions financeres van poder compartir les seues perspectives sobre les tendències de la indústria i dels solucions de startups, moderats per Antti Kosunen, fundador de Nestholma. Les startups també van poder compartir sessions de networking virtuals a través d'una plataforma online que es va habilitar com a punt d'encuentro.
Así, tots els assistents virtuals van tindre l'oportunitat d'interactuar amb les entitats financeres i startups per a conéixer-se entre ells, analitzar l'abast de l'activitat de cada startup, així com també les possibilitats d'implementació dels seus respectius models de negoci.